2020 became a sharp growth year in the market for FinTech products—from the already familiar banking services to instant deliveries and even medical services. But along with them, there was an explosion in the development of companies focused on ecology and climate preservation. And today, we want to pay more attention to the green FinTech companies' impact on the ecological situation in the world.
In this article:
1. What is "Green Fintech": how did FinTech join the Green Trend?
2. Taking care of the environment or a new marketing ploy?
3. How to make FinTech businesses more ecologically sustainable?
4. Successful use cases of FinTech impact on ecology
What is "Green Fintech": how did FinTech join the Green Trend?
Today the world is changing rapidly, and the speed of global transformations is growing. Economic, political, and technological shifts are disrupting business models and changing consumer expectations. Businesses have to adapt many times faster than they did five or ten years ago. In such conditions, it is important to understand the direction of development in order to get into the right course in time and not drown in the maelstrom of events.
Sustainable FinTech or ''green FinTech'' is an enterprise that has a minimal negative or even potentially positive impact on the global or local environment, community, society, or economy—a FinTech company that seeks to achieve a triple result.
Trends can be different in meaning, impact and duration, and in the flow of hyper information, it is not so easy to figure out which changes are important for your business. However, it is not difficult to single out two obvious macro trends that almost all researchers are talking about today: the development of technologies and the desire to reduce the burden on the environment. These two trends are inextricably linked and mutually condition each other. Indeed, along with innovations, the negative impact on the environment also increases.
This is acutely felt by millennials and the new generation Z, for whom, according to sociological research, fintech companies' brand ethics is crucial. Many companies today are adapting marketing and communication strategies for these generations, who make up the majority of consumers. Businesses are looking for ways to meet their environmental needs. Because the effective development of a company today is possible only at the intersection of economic, social and environmental responsibility. Businesses must learn to meet their needs without compromising the future.
And if the connection between the rapid development of technology and fintech is obvious, then it isn't easy to imagine how financial services can help improve the environment. However, green fintech can become part of a conscious lifestyle and part of a business strategy. And this happens at different levels. The first thing that comes to mind: fintech makes it possible to carry out transactions in real time, the number of transactions with paper media is reduced. True, this effect does not look so impressive against the background of growing electricity consumption, and hence greenhouse gas emissions.
However, fintech's impact on natural resources is not as great as its socio-economic significance. High-tech companies make finance affordable, help integrate different population segments into the financial system, which is important primarily for the most vulnerable. Fighting poverty is part of a sustainable development strategy formulated back in the late 1980s in the UN Commission's Our Common Future report, which is still relevant today. The idea of the document is to ensure that development does not run counter to the interests of future generations. Economic growth should not lead to environmental destruction and should also address inequality and poverty. This call is being heard more often today.
Taking care of the environment or a new marketing ploy?
Behind the "green" companies and loud statements about eco-campaigns often hide little real action—this phenomenon is called "greenwashing" by environmentalists. The globalized system of production and sale of goods is causing irreparable damage to nature worldwide. Despite assurances from brands that they are ready for change, they continue to generate tons of carbon from transporting goods, huge amounts of fresh water used to grow cotton, pollute soil and rivers with hazardous chemicals. They use precarious manufacturing sites in developing countries where female workers do not get a decent salary, not to mention the benefits package.
The topic of greenwashing is popular in the cosmetic market. There are many examples where manufacturers have pretended to be safe and sustainable in the absence of tight regulation of label information. But even genuinely natural and organic cosmetics can be questionable if produced in an unethical manner or non-recyclable packaging. In such cases, it is just another trend chase and response to consumer demand, rather than a truly environmentally friendly product.
None of the green FinTech companies, except a few, are calling for what can really affect the amount of environmental damage—to consume less. This is understandable because it contradicts the very nature of the economic model adopted in the modern world — an endless increase in profits at any cost. Major media and activists regularly criticize the working and working conditions in large companies - for example, the same H&M often gets it.
How to make FinTech businesses more ecologically sustainable?
''A sustainable business, or a green business, is an enterprise that has a minimal negative impact or potentially a positive effect on the global or local environment, community, society, or economy—a business that strives to meet the triple bottom line.'' Wikipedia
Growing your company more environmentally sustainable can help you cut costs, control risk, enhance your reputation, and create new business opportunities. For example, you can cut back on investments in companies that use raw materials or energy and instead invest more in those that use renewable resources. Along with the benefits for society and the environment, improving environmental sustainability affects your company's financial performance.
The good news is that you, as FinTech solutions software development company, can start a sustainability program by trying these simple tricks.
1. Full resource efficiency
You can run your Green Finance business using natural resources more economically by increasing their productivity ten or even 100 times. It is necessary to reduce dependence on energy and materials derived from resources extracted from the earth's bowels. This will help us solve the problem of the depletion of natural resources. For example, they can abandon paper checks in favor of electronic receipts or stop producing plastic cards and move the card online.
2. Investments in natural resources
Green fintech companies need to restore, maintain and expand ecosystems to support society and the needs of your business. Sustainable businesses are looking for ways to reduce the use of fossil fuels through the use of natural or alternative fuels.
You can also encourage our employees to use alternative means of transportation, such as bicycles or public transit.
3. Environmental redevelopment
You can use a closed-loop production system in which production waste and end-of-life disposal are reused as a resource rather than sent to landfills! In addition, it is necessary to eliminate chemical and artificial toxic substances from our production processes.
4. Services instead of goods
You can replace products with services or rent them out instead of selling them. If a product is outdated or beyond repair, it can be recycled or upgraded to a returned product. So you can organize a point for accepting plastic cards and give a small reward in the form of a bonus for this.
5. Responsible consumption
While it sounds like an oxymoron, using our products responsibly reduces the need for materials and reduces the associated waste and pollution. We must encourage responsible consumption by educating consumers to make better decisions about their purchases, consider where products originate, manufacturing conditions, ingredients, packaging, sustainability, and other sustainability criteria. New forms of company ownership and profit-sharing ensure a more equitable distribution of company success among employees and other stakeholders. You can try to avoid any inattentive interference with people's ability to meet their basic needs.
Successful use cases of FinTech impact on ecology
Fintech is closely associated with the idea of sustainable development due to its social function, but purely ecological projects also arise in this area. Below we will look at a few examples of how green FinTech companies and green finance startups can contribute to a better environment.
Stripe Climate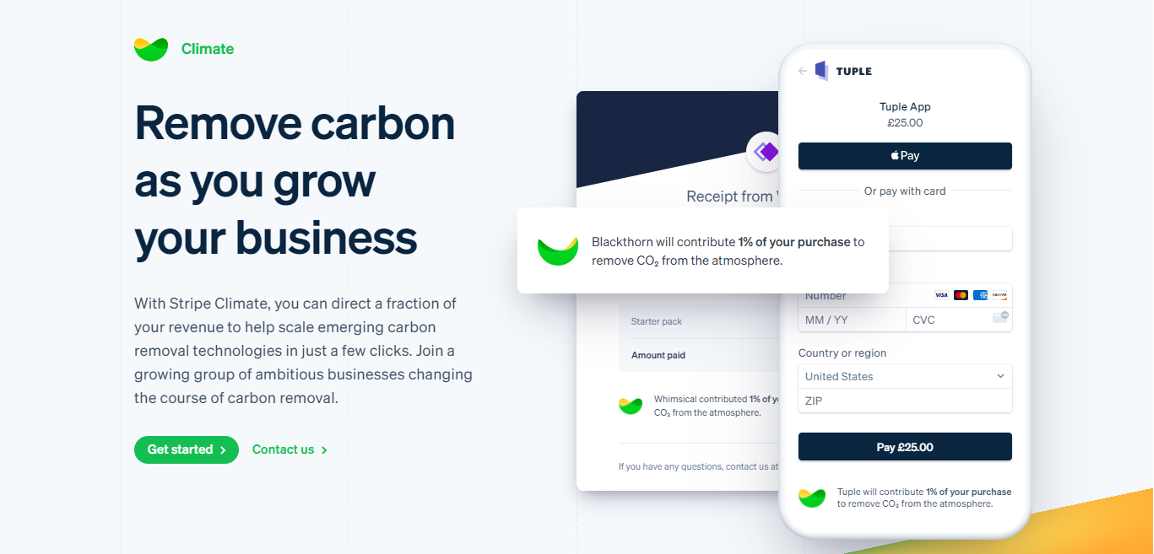 If you're an online business owner, you've probably heard of the Stripe.com payment platform. Thousands of e-commerce retailers use it to process payments and it is one of the most popular e-commerce tools for merchants around the world.
Stripe Climate was launched in October 2020 by the Stripe payment platform (created by co-founders Patrick and John Collison). Initially only available to US users, Stripe Climate became available globally in February 2021.
During the launch, Stripe Climate Head Nan Ransohoff published on her Twitter, ''Many users have told us they want to take climate action, but don't because figuring out what to do can be complicated. Stripe Climate makes it easy for businesses of any size to tackle climate change by funding frontier carbon removal.''
Stripe Climate enables businesses to help tackle climate change by channeling a small portion of their revenue towards initiatives to remove carbon dioxide (CO2) from the atmosphere permanently.
When you sign up with Stripe Climate, Stripe offers a percentage of revenue. This is determined by the amount you process through Stripe. If you think the ratio is too low or too high, you can set a flat monthly installment or adjust your percentage.
Where does the money go?
The band on this score is quite transparent. The Stripe Climate website currently lists six specific carbon abatement projects it supports:
► Heirloom
While we won't detail on each of these companies, Stripe started by supporting four projects when it launched last year. In May 1 year, carbon removal equipment was purchased for $2020 million. An expert group of academics and scientists selected these projects. This list has grown from the original four to the six we listed above.
Cooler Future

Finnish climate investment app Cooler Future raised €1.4 million last year from a variety of European venture capital firms and angels. Cooler Future says it will offer a globally diversified fund that will invest exclusively in sustainable companies and projects to reduce emissions.
According to the founder of the company, Matti Rönkkyo, redirecting investors' attention to companies that actively reduce carbon emissions will contribute to improve the situation with climate change in general. However, there is no general public yet. Cooler Future's mission is to present and standardize the investment industry climate impact metric as a third metric after traditional risks and rewards. The company wants to challenge the status quo by showing people the real power their investments can have in fighting climate change.
Carbon Zero
Contributions are accepted by developers and directed towards the development of clean energy. But the simple mechanics were revived by the element of gamification. After receiving the assistance, the company sends a notification in the spirit of ''You deposited 15 dollars, this will allow you to zero the carbon footprint of one car in 1.5 days of use''. Thus, users can immediately assess their practical contribution to climate preservation.
LendInvest
Barclays and HSBC have invested £150m in the UK-based lending platform LendInvest. This is a service that provides loans for the purchase of housing for rent. The start-up will direct the investments of banks to the issuance of loans to improve the energy efficiency of apartments that landlords plan to rent out. For example, houses can be built with more environmentally friendly materials or consume less energy than those of similar size and population.
Since April 2020, Britain had a rule that any rental housing must have an energy efficiency certificate of class E; by 2025, the requirement may grow to class C.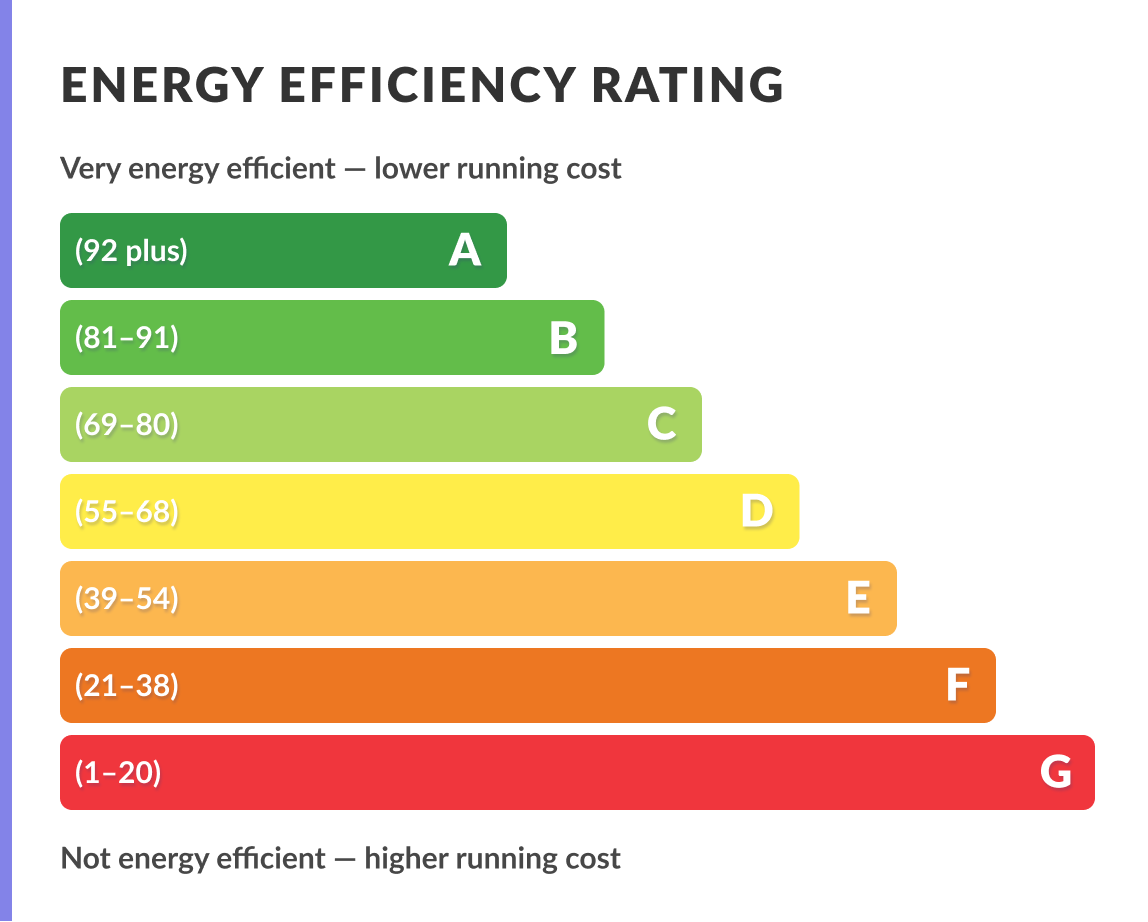 Therefore, the emphasis on sustainable housing modernization is vital for investors in projects like LendInvest. Last month, the UK Office for National Statistics released data that the government's green home initiative could cost homeowners £21.5 billion, which is £7,646 per apartment.
Sugi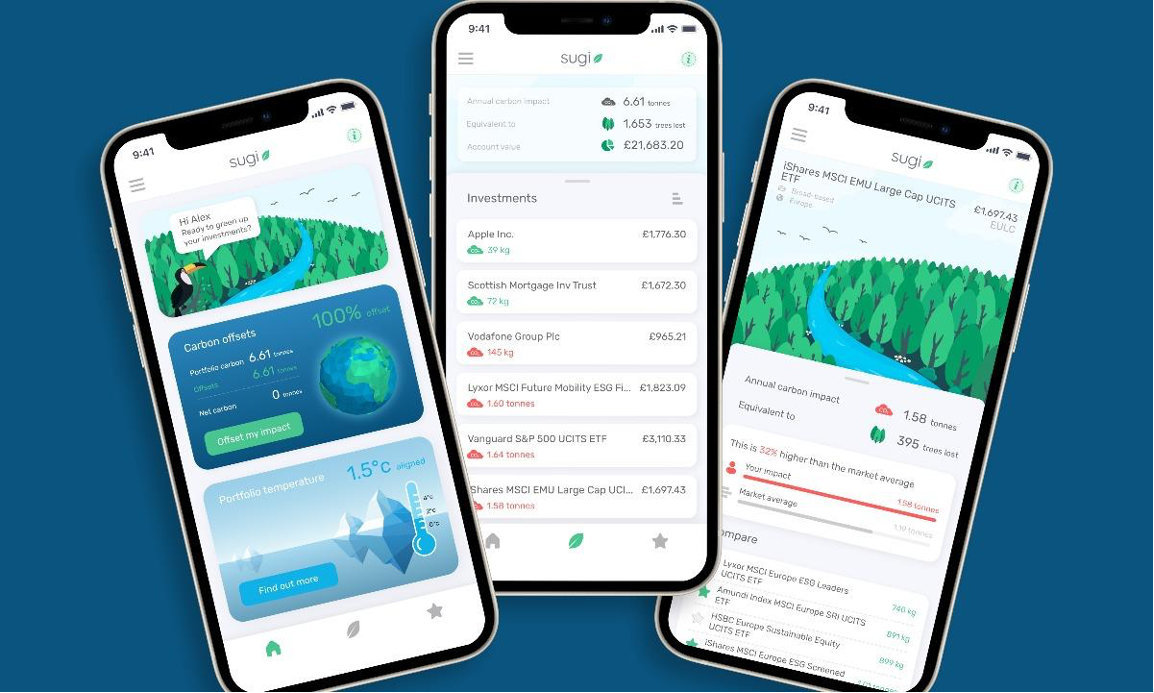 Investment green finance startup Sugi has launched a new product. The user is offered not only to choose securities of companies with an ESG focus but also to ''test'' his current portfolio how the previously selected issuers relate to the environment and whether they harm the environment. In particular, companies are being tested for "involvement in global warming." So far, the feature is only available to UK Sugi users.
''Companies are under systematic pressure to decarbonize their activities. However, our product allows investors to take action to protect the climate now if they so desire, ''says Sugi founder Josh Gregory.
Aspiration
Aspiration offers another move from online donation to offline action. This service allows users to round their purchases to the nearest dollar and plants trees for change. So far, Aspiration has planted more trees than in Central Park in New York. These trees are planted in Kenya, Mozambique, Madagascar, Honduras, Brazil, and the USA.
Also, this company guarantees that nobody will use clients' deposits to finance enterprises that contribute to the deterioration of the planet's ecology, such as oil pipelines, mines for coal, or drilling in the Arctic.
Atmos Financial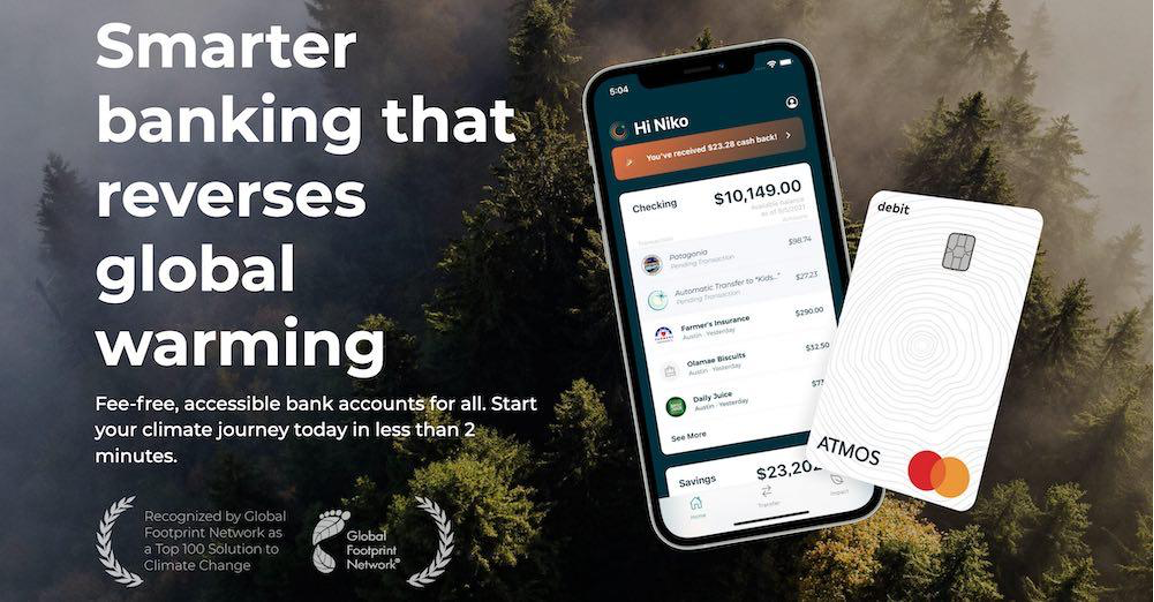 Neobank Atmos Financial also offers its clients, who open deposit accounts, to use their funds only in "green" projects—technologies and companies struggling with the global climate crisis. That is, neobank lends primarily to eco-initiatives. In addition, Atmos offers cashback for shopping at sustainable brands, measures the user's carbon footprint, and eliminates the need to pay commission for donations to foundations.
Ravi and Pete, Co-Founders, say that a large number of people, including community leaders, live as if environmental problems do not exist. That is why they wondered how they could personally influence the improvement of our ecological situation. This is how the team came about.
Final thought
The green trend can take many forms in the financial industry. For example, fintechs drive behavioral change at the customer level to reduce mindless consumption and thus carbon emissions. They offer green loans or investments in environmental projects at the business level. In their core function, microcredit and payments companies reduce social inequalities and help fight poverty. There are also other initiatives, such as replacing plastic cards with biodegradable counterparts.
However, given the environmental situation, this is not enough. We can only hope that the evolution of blockchain, cloud technologies, big data, and other related innovations will transform the financial system, focusing on inclusive and sustainable development. The demand for eco-consumption is just being formed here, but business today should be guided by the principles of conscious production.
The US and European companies are actively pursuing a low-carbon economy course. And public attention to climate change remains relevant. All of this could further spur more exciting innovations in fintech aimed at creating a greener world. True, it remains to be seen if these products will be able to generate significant returns (and therefore deserve further investment), but this will definitely be a hot topic in the coming years.