What Gartner CRM System Is The Best: Pega vs Salesforce
Based on Gartner analytics for 2021 year - there are two CRM systems that have leading positions: Salesforce and Pegasystem.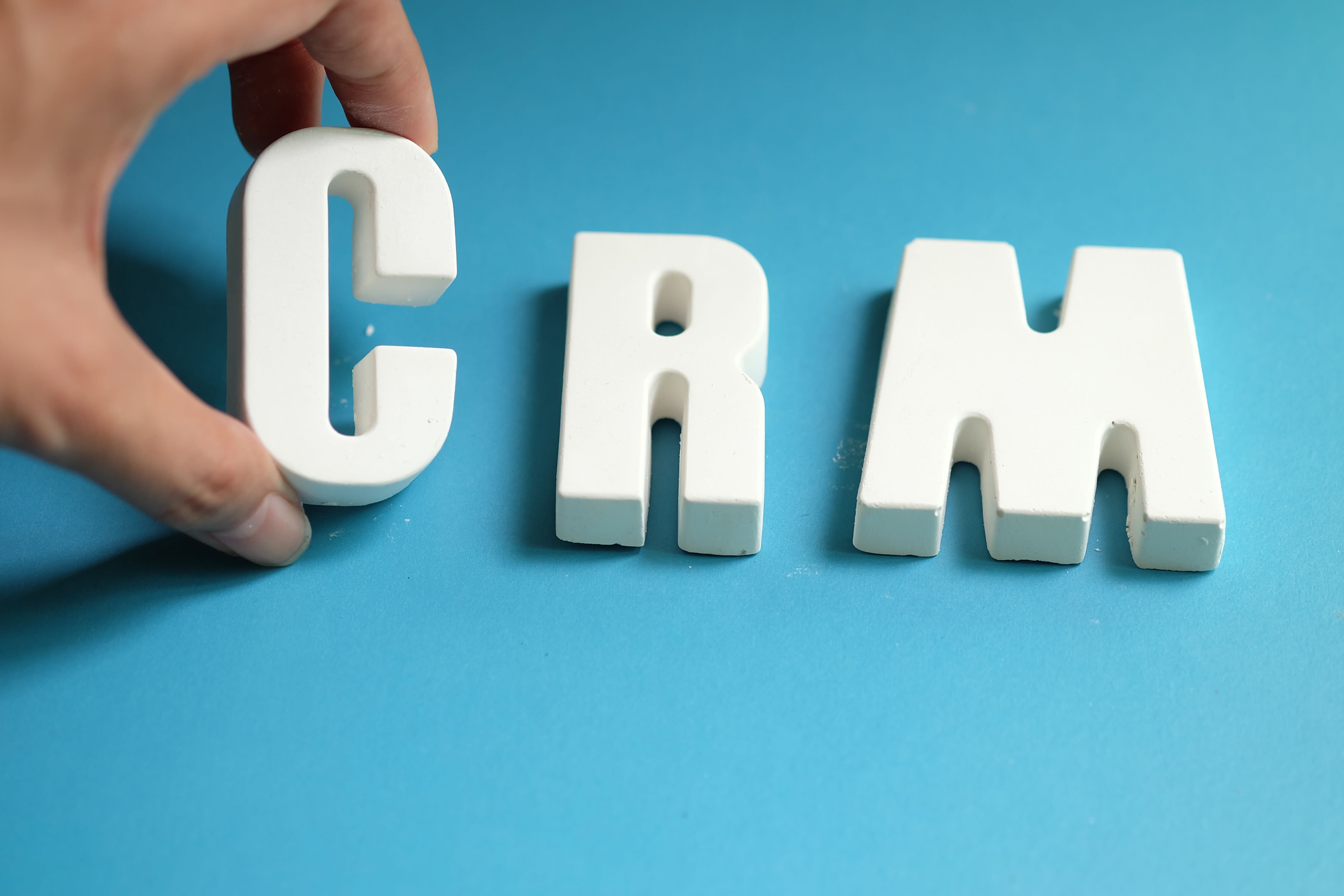 CRM is always written about in such an incomprehensible language, as if it were the hadron collider. But in fact it is just a program for business management. True, it is very smart - so much that it helps to increase profits by 40-50%, reduce costs and speed up the processing of applications by 2 times. But what is CRM and what exactly does it do?
The definition or abbreviation CRM stands for "customer relationship management". CRM, with the help of process automation, helps to build a dialogue with the buyer more efficiently, avoid mistakes in work and, as a result, sell more to them.
What does it look like in CRM? Imagine an Excel spreadsheet with your customer base, but only when you click on the customer's name, a convenient card opens, which contains the entire history of working with them - from the first call to the purchase. Here you can listen to calls, view the purchase history, create documents by template, write an e-mail or sms, set a task.
When a customer calls you, CRM prompts you to open their card, and you immediately greet them by name. Even if earlier this buyer was led by another manager, you can easily answer his questions without any "clarify and call back". CRM itself will send the client an SMS about the order status and remind them of the meeting. As a result, you save time - both yours and the clients'. This means you make them more loyal and inclined to buy.
Based on CRM comparison Gartner analytics for 2020 year, there are two CRM systems that have leading positions: Salesforce and Pegasystem. In this article we have decided to make Salesforce and Pega CRM competitors analysis.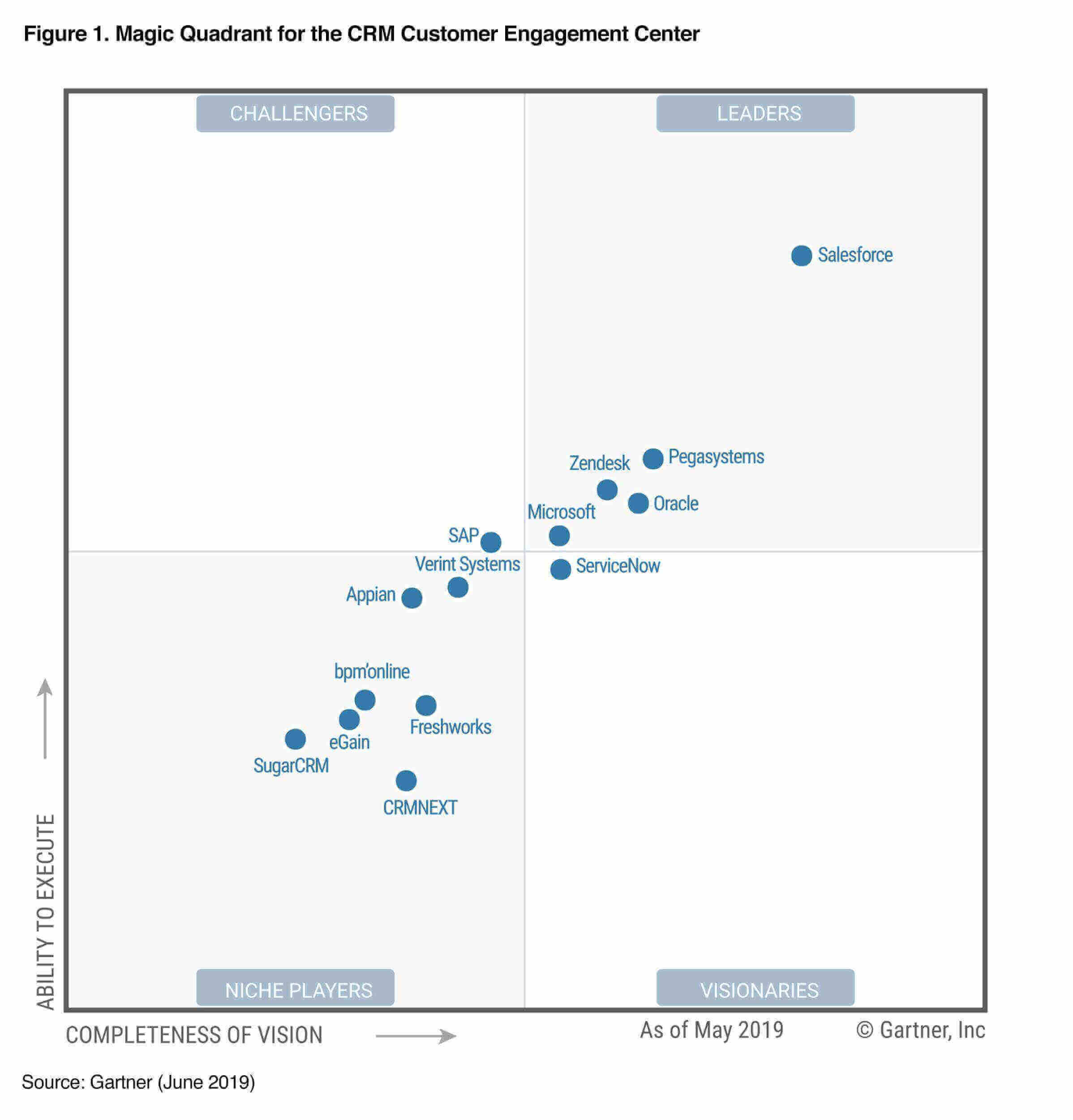 CRM Software Gartner: Pega and Salesforce
Pega vs Salesforce Gartner best CRM systems can not be compared in terms of where the beginning point of customer relationship management(CRM)of both companies is. Salesforce is currently evolving from providing a simple software-as-a-service (SaaS) application that tracked sales leads to a suite of cloud applications that promise to deliver superior customer experiences. Pegasystems first gained recognition as a provider of a business process management (BPM) that the company has subsequently extended to create a set of highly integrated sales and marketing applications.
To provide the same level of integrated application experience, Salesforce has invested in multiple integration frameworks, including an acquisition of MuleSoft in 2018. At the same time, Salesforce has been acquiring a set of marketing applications that will soon share a common data object model of a CRM application with the same name.
From the perspective of a sales team there's no doubt that Salesforce is the more accessible and multifunctional of these two types of CRM software. There are a lot of benefits in a Pegasystems approach. It does look at CRM applications as the front-end application through which business processes that span the entire enterprise are integrated. In fact, it is obvious that Salesforce tries to provide an integrated application experience that covers the entire customer experience management process. So, let's do more detailed analysis of Pega CRM vs Salesforce CRM.
Salesforce and Pegasystems Similarities & Differences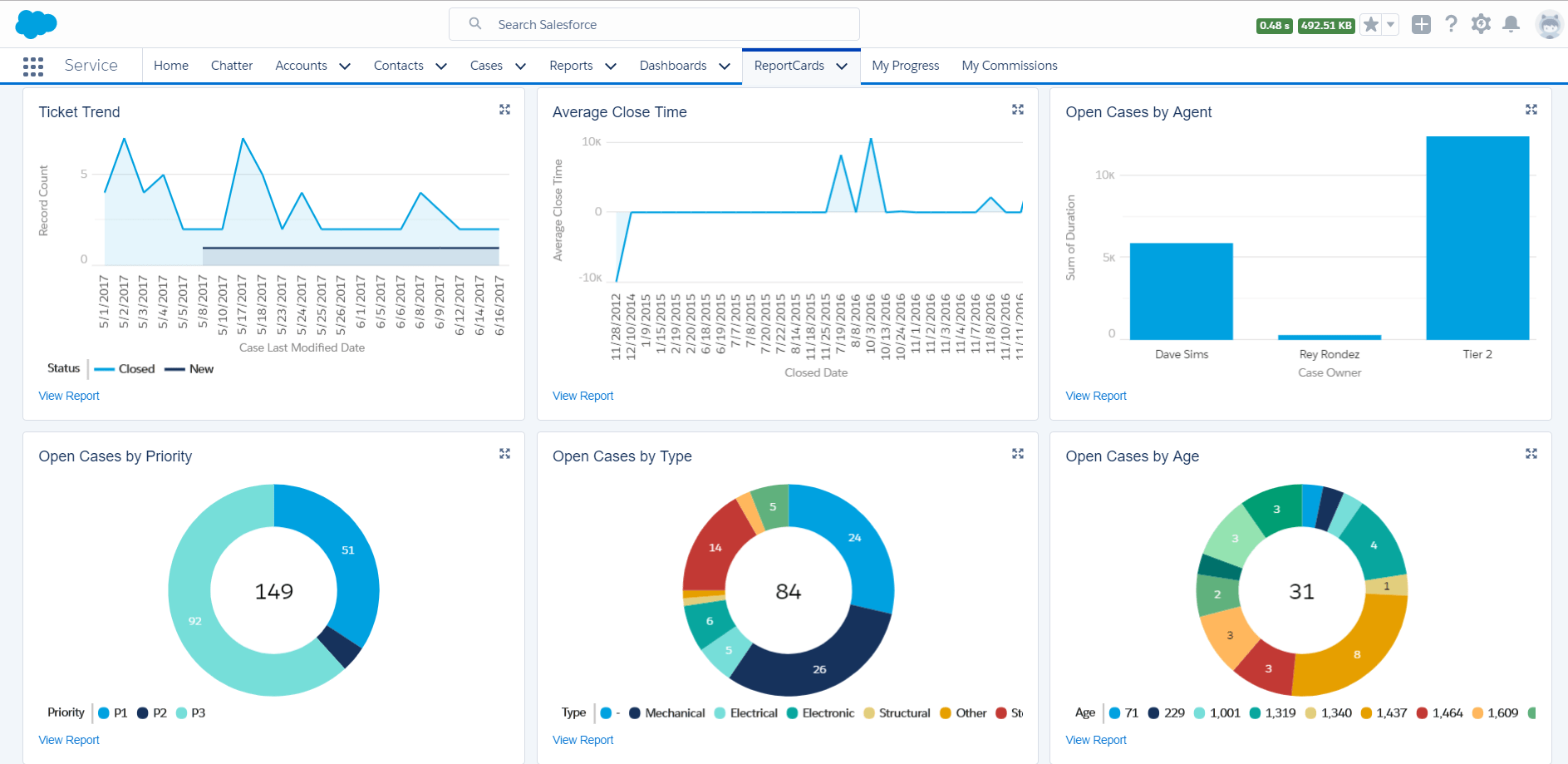 One of the main Pega CRM competitors is Salesforce. It is obviously focused on the sales teams as the center of the business universe, so it is not a surprise that there are more features and capabilities in its core CRM offering. It is less clear, however, to what extent a sales team is going to use the set of app features. Regardless of the application category, most users regularly use about 10 to 20 percent of the capabilities in that application. Yet, in terms of empowering salespeople, there is a reason why so many sales teams standardize on Salesforce.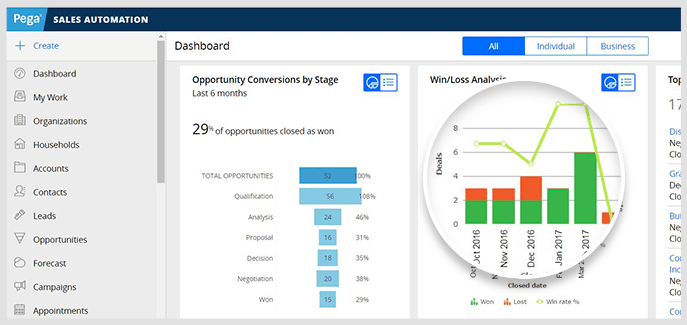 Pegasystems CRM has most of the capabilities that would be required for every sales team. The fundamental difference is the level of actionable intelligence. It can be surfaced within Pega CRM with the regard of integration with the BPM platform developed by Pegasystems. Armed with the data that can be directly accessed from Pega CRM, salespeople can be provided with a lot more insight into an organization's supply chain. That could enable them to inform customers more accurately when, for example, a certain quantity of product might be available and delivered.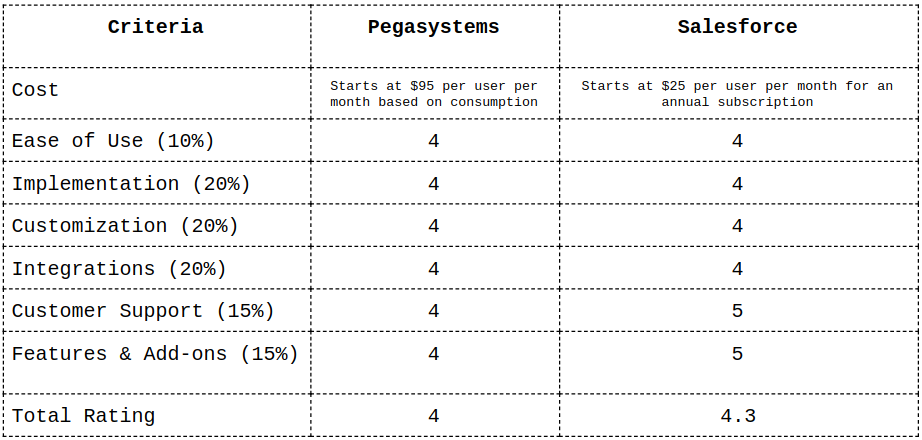 Pega CRM vs Salesforce Price

The starting price of Salesforce is $25 per user per month, and it can easily rise as more features are invoked. Salesforce has also built a reputation for not being willing to negotiate on pricing.

Pega CRM is available in a wide variety, but a subscription to "customer service applications" running in a single tenant cloud platform managed by Pegasystems is indicated on the company's Web site as relevant in the rage from $97 for "case management" to $295 per user per month for an "omni-channel experience." Third-party vendors, however, propose Pega CRM on the online-sale at $200 per user per month. Organizations deploying Pega CRM locally can expect even higher total costs.

Ease of Use

Salesforce has spent years on optimizing the user experience across multiple platforms. The Salesforce CRM application is easily accessible from any mobile or desktop device and presents a clean user interface.

The Pegasystems CRM is built more around the concept of case management. Each customer engagement is treated like a case that should be opened. The data from various external systems that might be related to that customer engagement flows into the application in real-time. The goal is to enable salespeople to close a customer engagement,because the data they need is locked up in an application they cannot immediately access.

It is also worth noting that both companies are making major investments in artificial intelligence (AI) to make their applications more accessible. It may even surprise some people to know that, in addition to Pegasystems having paved that way earlier than Salesforce, the former still remains a little ahead of the Pegasystems competitors.

Pega vs Salesforce Implementation

Salesforce is widely known for being one of the first of software-as-a-service (SaaS) applications and has remained steadily committed to this approach.

Pegasystems CRM is designed to be deployed on-premises or in a public cloud or via Pega Cloud, an instance of a single-tenant cloud computing environment managed by Pegasystems.

While Salesforce is delivered as a SaaS application, organizations will find that there is a significant variance between merely activating a software license and the ability to use Salesforce effectively to manage a sales process. That work often requires either hiring someone with a lot of Salesforce expertise or relying on a third-party service provider.

Salesforce vs Pega Customization

Salesforce provides a wide range of options for customizing its CRM application, especially in a series of low-code Lightning app development tools that are simple enough for end users that have some knowledge of how to construct an application to employ by themselves. Most recently, Salesforce has begun to make elements of that low-code platform available as open-source code.

Pegasystems uses a set of visual tools to enable organizations to configure any Pega application. Those tools are more accessible to the average end user compared to Salesforce tools that require at the very least a "super user" to employ. As such, organizations are going to find it a little easier to customize Pega CRM once they get it up and running.

INTEGRATION

To foster integration Salesforce provides access to a number of tools and well-defined application programming interfaces (APIs). In addition, last year Salesforce went on to acquire MuleSoft, a provider of application integration software and services. Also, Salesforce makes available multiple platform-as-a-service (PaaS) environments.

Pegasystems focuses on integration at the BPM level. It is a much higher level of abstraction. However, achieving that level of integration requires that organizations standardize on the Pega BPM platform.

CUSTOMER SUPPORT

Both Pegasystems and Salesforce provide quick access to customer support. However, Salesforce has built a massive end user community through which sales administrators and developers mutually support each other and share best practices.

FEATURES & ADD-ONS

Salesforce makes more features available within its CRM application. Salesforce has a significant advantage in terms of the scope of the app store that makes it possible to discover a wide range of add-ons and additional modules, such as marketing automation tools. The core Salesforce strategy is a single customer record that allows to integrate all additional third-party software via a common object model.

Pegasystems has pursued a path through which it ensures all the applications it provides share the same code base. The user experience across an application portfolio, which, in addition to CRM, includes marketing and customer service applications, becomes more seamless.
Which CRM is Best for Your Business?
The greatest effect CRM systems bring to companies in the "business-to-business" sector. These are technology, advertising, consulting firms, banks, etc. Sales in this sector imply direct long-term interaction with the client. And the success of the interaction often depends on how well the manager gets prepared for the meeting with the client. It is the quality of work with the clients, which is ensured by the redundancy of information about them, that becomes the most important competitive advantage of the company. This is especially true in cases where the company's business is built on transactions with a long cycle of their implementation.
A properly implemented and well-managed CRM system significantly improves the work of the company's departments that directly interact with the client (sales department, website, online store, marketing department, service and customer services, call center). This, in turn, makes it possible to:
store, plan and track the history of work with clients;
ensure that customer information is independent of different or specific managers;
identify organizations with which there has been no interaction for a long time - this can increase the efficiency of work with the client base;
do customer segmentation (by industry, status and / or region, etc.);
prepare and track future transactions (agreements) and payments thereon;
have a system of notifications, reminders and alerts (for example, about the expiration of a task or the involvement of a new client in it, etc.)
Let's take a look at which of the systems will be more suitable for work in various industries.
Education.

Companies that provide business services such as online training often contact a specific client for a long time while using the platform. In order to give the client (be it a student or a teacher) due attention, the company must retain all the information regarding each project. This includes the history of selected / completed / created courses, feedback, correspondence, and so on. CRM coordinates here the activities of each participant in the process - administrator, teacher, student, support service, etc. That's why the best decision for the education industry will be Salesforce.

Finance.

Perhaps in Finance, the Salesforce system is also a leader, due to an extension that is designed specifically for the financial industry. It gives you multifunctional billing options and company money management tools. You can create the funds you want, manage accounts and all payments, automate payroll, fund deductions and control payments. Also, with the help of this CPM system, you can open clients access to personal accounts so that they can track their balance, see the history of payments at any time, work with all necessary currencies and create expected payments in order to objectively assess future financial opportunities. Salesforce makes it easy to integrate your system with external databases to exchange payment information with them.

Healthcare.

When it comes to health, the Pegasystem CRM wins. This is a suitable system of relationships with users of medical services, which allows you to better understand the needs of patients, find an individual approach to each of them and improve the quality of their service by storing and automatically processing clinical, demographic, calendar and other types of data about the patient and the work of the medical institution itself. The flexible Pegasystem solution for automating the tasks of treatment centers, clinics, medical and health institutions allows you to increase the efficiency of employees of healthcare organizations, optimize internal and external communications, get a transparent picture of the work of all departments and organize impeccable patient care at all stages of interaction.
Our Experience.
When Geniusee team was developing Sales/Marketing application, we faced a choice of a CRM system. The peculiarity of work in the field of sales is that each employee is forced to simultaneously work with many transactions that are at different levels of execution and require timely response. Not everyone can keep such a large and varied amount of information in their memory. Records and reminders on paper do not guarantee promptness and full execution.
When choosing one or another CRM system, we identified the tasks that were to be solved with its help and came to the conclusion that the system we needed should be multifunctional and capable of:
automating most of the functions to reduce the time spent on each operation and getting rid of necessary but unproductive activities;
providing operational support to employees in contact with customers;
optimizing work with clients, that is, taking into account all contacts, prompting when to call back or expect payment, sending information about ongoing promotions, informing about the arrival of ordered or promising products.
Salesforce turned out to be more suitable for this project. Using the platform, we have automated the work of the sales department, marketing actions on the Internet, including social networks, client portals, chats for individual communication.
Salesforce allowed us to create a single platform that can be shared by employees, partners, and customers. To do this, we used the tools of contacts with suppliers, agents, franchises. All capabilities were focused on a common platform, i.e. the ability to use up-to-date information in real time, track new arrivals and requests is implemented.
CRM implements numerous tools for building analytical reports, both standard and additional dashboards (visual indicators), that allows us to get a clear picture of the results.
Final Thoughts
Choosing between Pegasystems vs Salesforce will come down to the scope of the organization's ambition. If the goal is to empower the sales organization to sell more products and services, it is hard to ignore all the capabilities of the Salesforce platform that millions of salespeople are already familiar with. You can also read about Best CRM Software Gartner.
Thank you for Subscription!