Based on Gartner analytics for 2020 year - there are two CRM systems that have leading positions: Salesforce and Pegasystem.
Based on Gartner analytics for 2019 year (https://www.zendesk.com/resources/gartner-magic-quadrant-crm/) - there are two CRM systems that have leading positions: Salesforce and Pegasystem.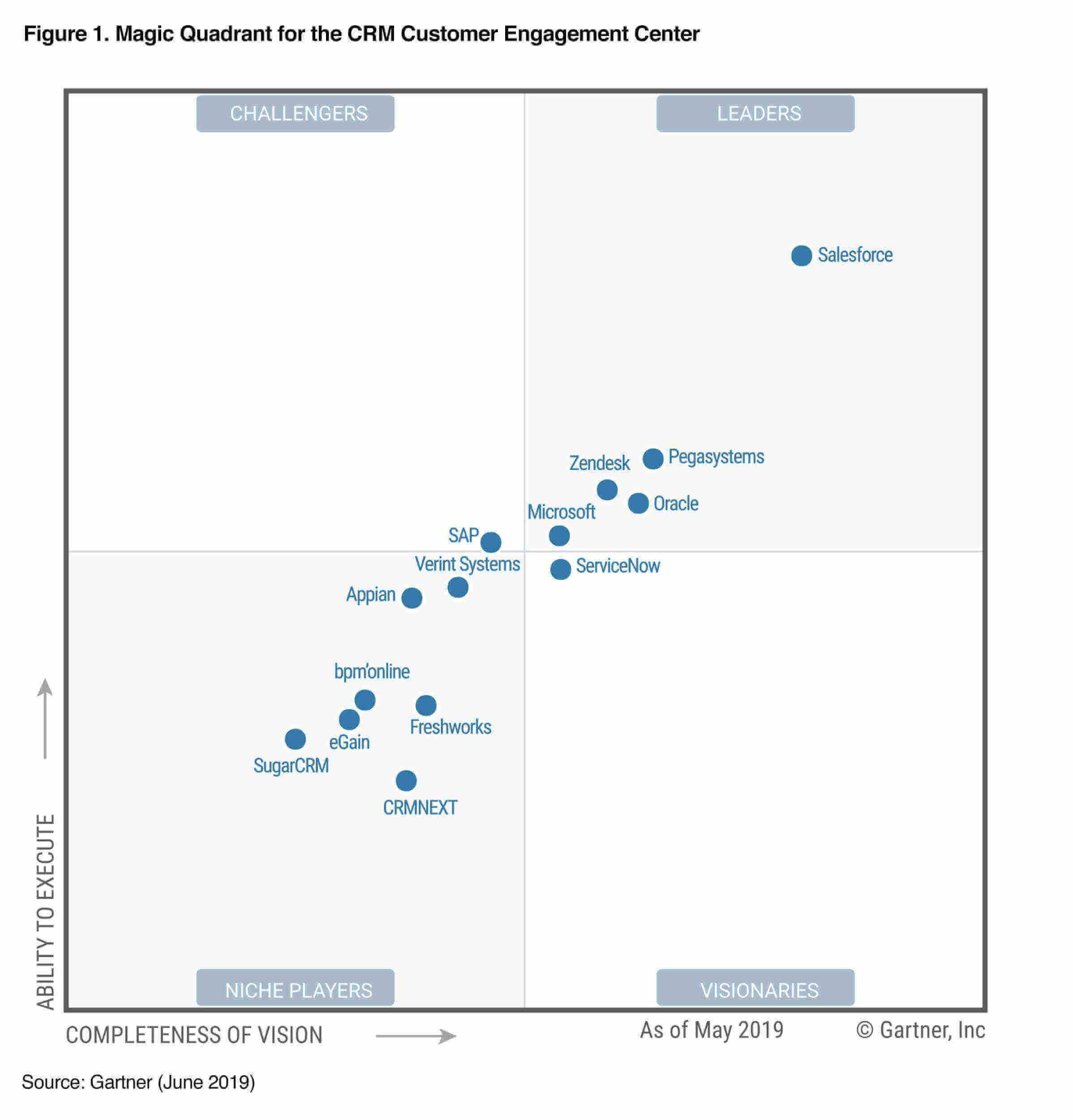 Salesforce and Pegasystems can not be compared in terms of where the beginning point of customer relationship management (CRM) of both companies is. Salesforce is currently evolving from providing a simple software-as-a-service (SaaS) application that tracked sales leads to a suite of cloud applications that promise to deliver superior customer experiences. Pegasystems first gained recognition as a provider of a business process management (BPM) that the company has subsequently extended to create a set of highly integrated sales and marketing applications.
To provide the same level of integrated application experience, Salesforce has invested in multiple integration frameworks, including an acquisition of MuleSoft in 2018. At the same time, Salesforce has been acquiring a set of marketing applications that will soon share a common data object model of a CRM application with the same name.
From the perspective of a sales team there's no doubt that Salesforce is the more accessible and multifunctional of these two CRM softwares. There are a lot of benefits in a Pegasystems approach. It does look at CRM applications indeed as the front-end application through which business processes that span the entire enterprise are integrated. In fact, it is obvious that Salesforce tries to provide an integrated application experience that cover the entire customer experience management process.
Salesforce and Pegasystems: similarities & Differences.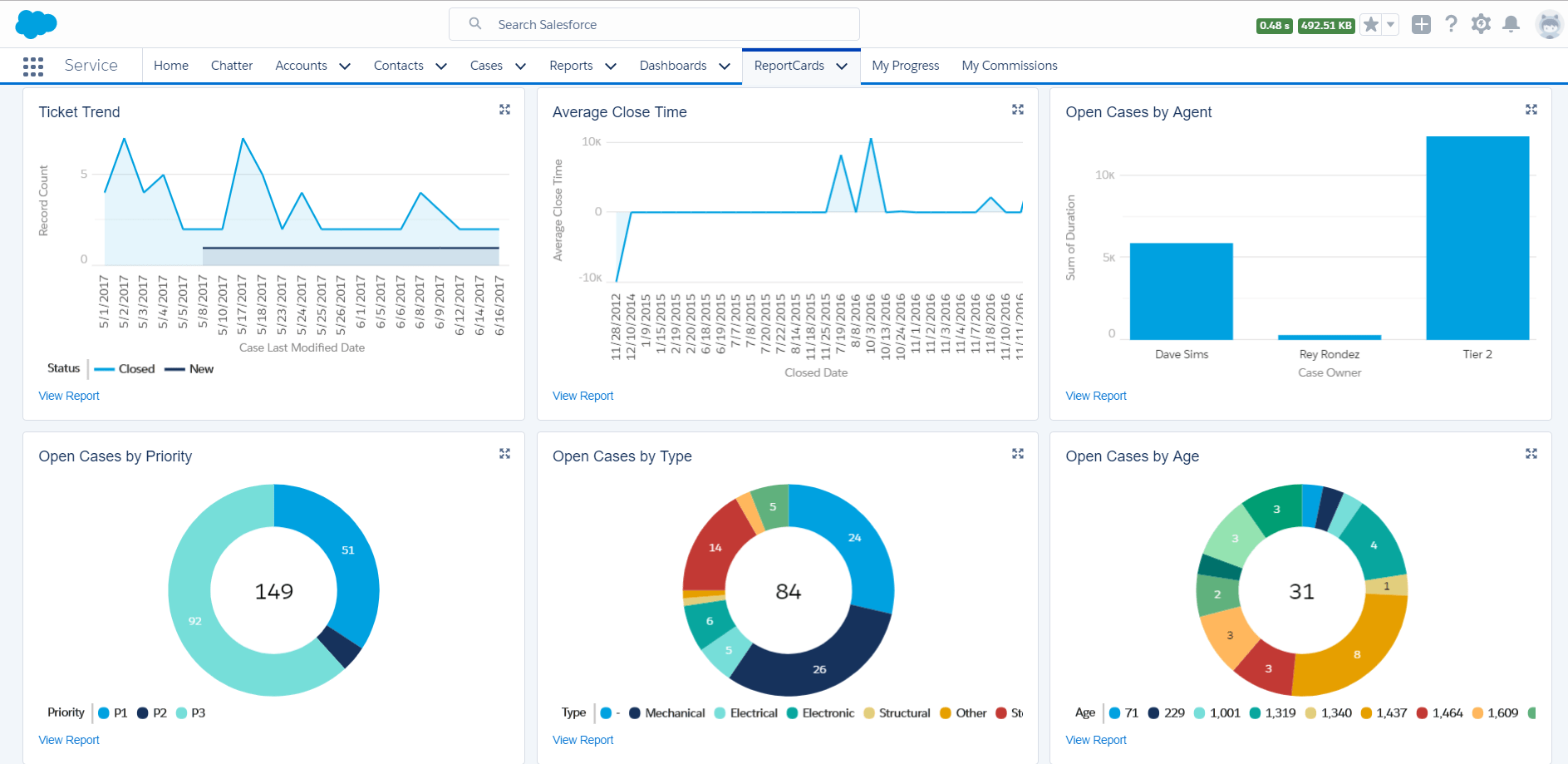 Salesforce is obviously focused on the sales teams as the center of the business universe, so it is not a surprise that there are more features and capabilities in its core CRM offering. It is less clear, however, to what extent a sales team is going to use the set of app features. Regardless of the application category, most users regularly use about 10 to 20 percent of the capabilities in that application. Yet, in terms of empowering salespeople, there is a reason why so many sales teams standardize on Salesforce.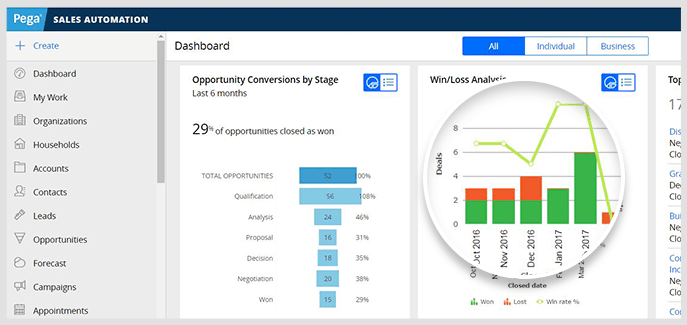 Pegasystems CRM has most of the capabilities that would be required for every sales team. The fundamental difference is the level of actionable intelligence. It can be surfaced within Pega CRM with the regard of integration with the BPM platform developed by Pegasystems. Armed with the data that can be directly accessed from Pega CRM, salespeople can be provided with a lot more insight into an organization's supply chain. That could enable them to inform customers more accurately when, for example, a certain quantity of product might be available and delivered.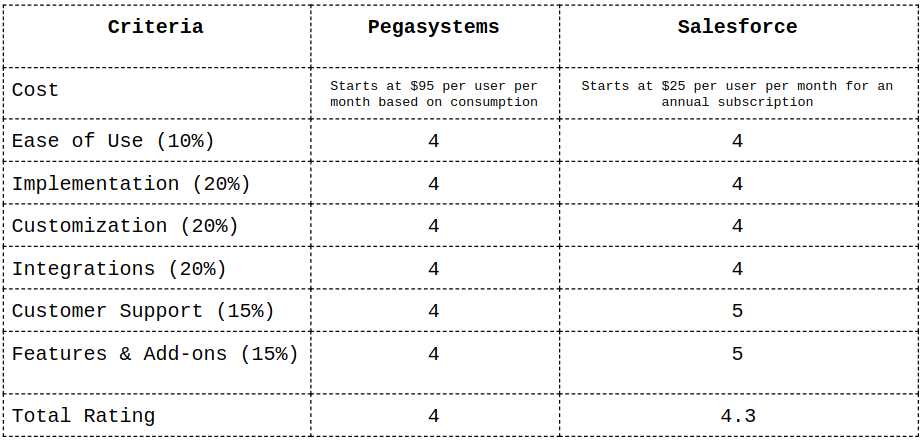 PRICE

The starting price of Salesforce is $25 per user per month, and it can easily rise as more features are invoked. Salesforce has also built a reputation for not being willing to negotiate on pricing.

Pega CRM is available in a wide variety, but a subscription to "customer service applications" running in a single tenant cloud platform managed by Pegasystems is indicated on the company's Web site as relevant in the rage from $97 for "case management" to $295 per user per month for an "omni-channel experience." Third-party vendors, however, propose Pega CRM on the online-sale at $200 per user per month. Organizations deploying Pega CRM locally can expect even higher total costs.

EASE OF USE

Salesforce has spent years on optimizing the user experience across multiple platforms. The Salesforce CRM application is easily accessible from any mobile or desktop device and presents a clean user interface.

The Pegasystems CRM is built more around the concept of case management. Each customer engagement is treated like a case that should be opened. The data from various external systems that might be related to that customer engagement flows into the application in real-time. The goal is to enable salespeople to close a customer engagement,because the data they need is locked up in an application they cannot immediately access.

It is also worth noting that both companies are making major investments in artificial intelligence (AI) to make their applications more accessible. It may even surprise some people to know that, in addition to Pegasystems having paved that way earlier than Salesforce, the former still remains a little ahead of the competitor.

IMPLEMENTATION

Salesforce is widely known for being one of the first of software-as-a-service (SaaS) applications and has remained steadily committed to this approach.

Pegasystems CRM is designed to be deployed on-premises or in a public cloud or via Pega Cloud, an instance of a single-tenant cloud computing environment managed by Pegasystems.

While Salesforce is delivered as a SaaS application, organizations will find that there is a significant variance between merely activating a software license and the ability to use Salesforce effectively to manage a sales process. That work often requires either hiring someone with a lot of Salesforce expertise or relying on a third-party service provider.

CUSTOMIZATION

Salesforce provides a wide range of options for customizing its CRM application, especially in a series of low-code Lightning app development tools that are simple enough for end users that have some knowledge of how to construct an application to employ by themselves. Most recently, Salesforce has begun to make elements of that low-code platform available as open-source code.

Pegasystems uses a set of visual tools to enable organizations to configure any Pega application. Those tools are more accessible to the average end user compared to Salesforce tools that require at the very least a "super user" to employ. As such, organizations are going to find it a little easier to customize Pega CRM once they get it up and running.

INTEGRATION

To foster integration Salesforce provides access to a number of tools and well-defined application programming interfaces (APIs). In addition, last year Salesforce went on to acquire MuleSoft, a provider of application integration software and services. Also, Salesforce makes available multiple platform-as-a-service (PaaS) environments.

Pegasystems focuses on integration at the BPM level. It is a much higher level of abstraction. However, achieving that level of integration requires that organizations standardize on the Pega BPM platform.

CUSTOMER SUPPORT

Both Pegasystems and Salesforce provide quick access to customer support. However, Salesforce has built a massive end user community through which sales administrators and developers provide each other with mutual support and share best practices.

FEATURES & ADD-ONS

Salesforce makes more features available within its CRM application. Salesforce has a significant advantage in terms of the scope of the app store that makes it possible to discover a wide range of add-ons and additional modules, such as marketing automation tools. The core Salesforce strategy is a single customer record that allows to integrate all additional third-party software via a common object model.
Pegasystems has pursued a path through which it ensures all the applications it provides share the same code base. It provides a more seamless user experience across an application portfolio that in addition to CRM includes marketing and customer service applications.
You can also see Gartner compare here - https://www.gartner.com/reviews/market/crm-customer-engagement-center/compare/pegasystems-vs-salesforce
Choosing between Pega CRM and Salesforce will come down to the scope of the organization's ambition. If the goal is to empower the sales organization to sell more products and services, it is hard to ignore all the capabilities of the Salesforce platform that millions of salespeople are already familiar with.