Crave Retail - increasing sales in fitting rooms beyond 20%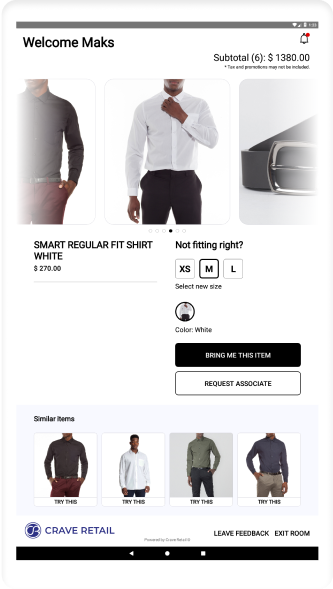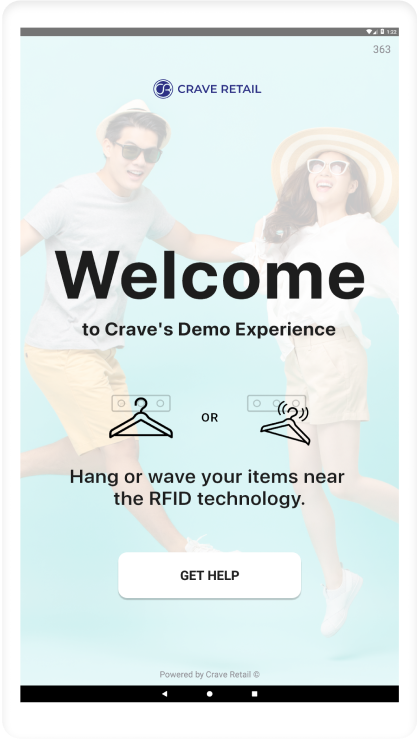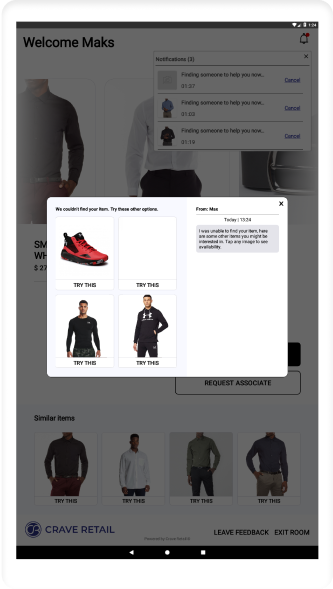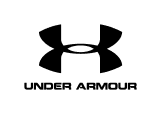 the challenge
From the beginning, Crave Retail was an Apple-first company with our mobile enterprise applications for retailers all built for iOS. "While this was suitable for most retailers in North America, retailers beyond North America seem to lean towards the Android environment. In early 2020, a multi-billion-dollar retailer was looking for our Interactive Fitting Room experience but insisted that they would only move forward if we could run on Android", - says Matthew Cyr, CEO and Co-Founder at Crave Retail. His company needed to find a reliable partner with rich experience across engineering, design, and a project management team to enable Crave Retail to build and deploy its solution within a few months.
"When we met Taras from Geniusee at a Techstars event in Austin, Texas, USA, it was a simple choice to choose his team for the job. Two years later, we still work with Geniusee because of their commitment to quality and our company's success. Our Android Fitting Room Experience and Associate Assist Experience are considered best-in-class solutions by the retail industry", - says Matthew.
Core activities at this stage include:
Building a user-friendly, intuitive interface for shoppers to request on-demand service and get outfit recommendations without leaving the fitting room.

Creating a backend platform with analytics allowing retailers to track trends, sales fluctuations, demand changes, etc.

Creating a comprehensive set of push notifications to help associates quickly respond to customer inquiries.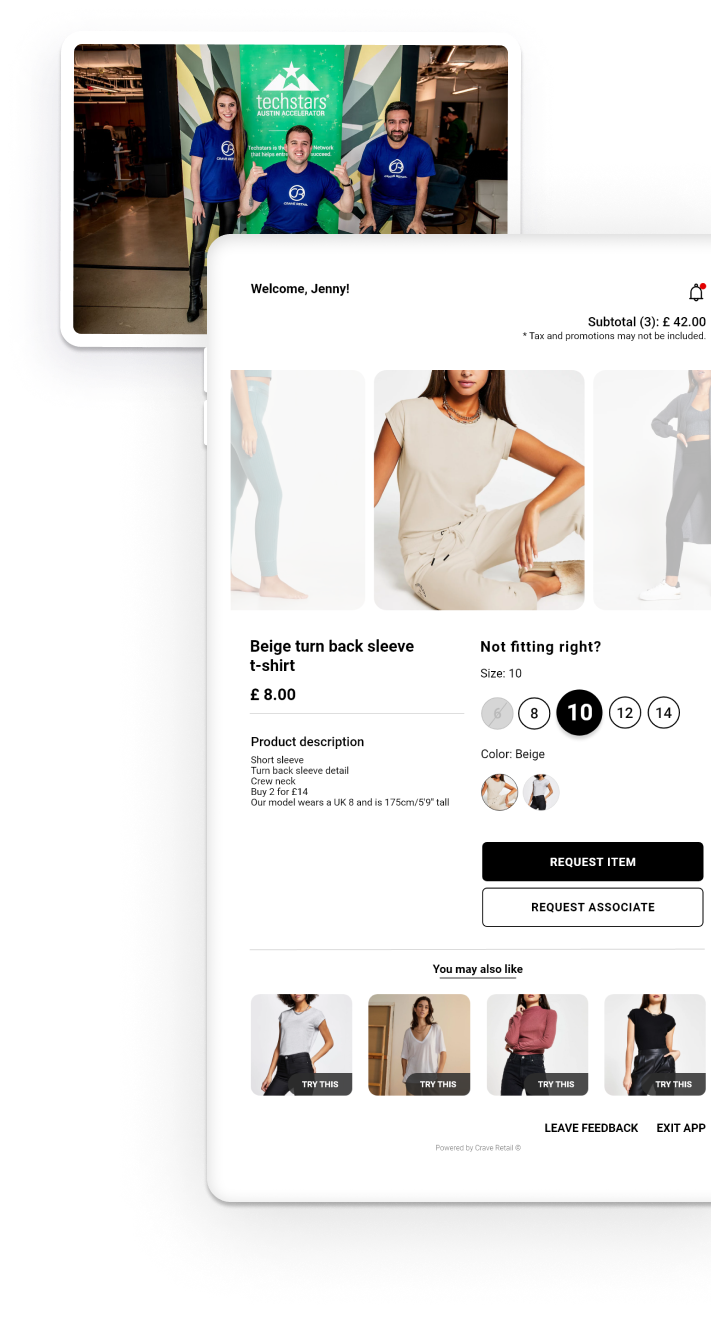 Are you looking for full cycle product development?
You found what you were looking for. Just fill out the contact us form.
Contact us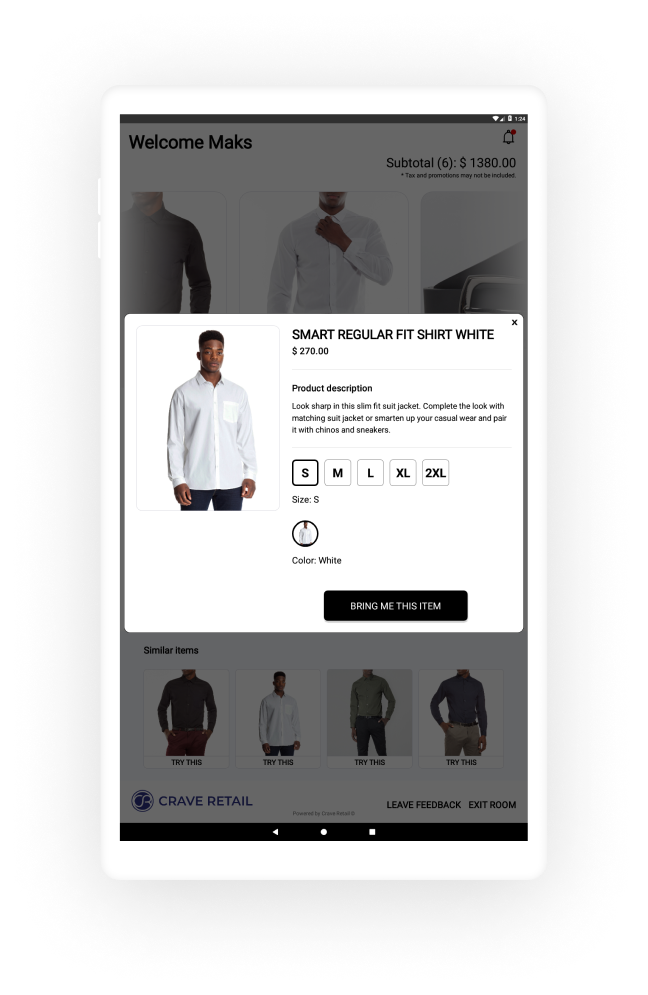 the process
For Crave retail Geniusee has developed 2 enterprise mobile applications that solve the double-sided problem for every shopper visiting the fitting room. The Fitting Room application allows shoppers to see every item in the fitting room with them, the ability to request new sizes and colors, and see outfit recommendations right from the fitting room. The Associate Application allows them to provide fast and personalized service to those shoppers making requests.
Here's a tech stack Geniusee developers have used.
Framework: Android

Language: Kotlin, Async/Multitask helper: Coroutines

Dependency Injection: Koin
When the app is ready now, retailers working with Crave Retail are empowered to leverage actionable insights from fitting room activity such as foot traffic, customer behavior, and customer service that they've never had access to before. By equipping retailer's fitting rooms with interactive displays to showcase the shopper's items, offer product recommendations, and allow them to request anything they need right from the fitting room, retailers can give shoppers the experience they deserve.
the outcome
As a result, retailers have seen the average basket size of shoppers visiting fitting rooms increase by over 22%. It's pretty simple when you think about it; if you get more shoppers into the highest converting space in your stores - fitting rooms - with more items and offer the best customer service, shoppers will spend more.
Some retailers have used Crave to identify that shoppers visiting fitting rooms spend over 30% more than shoppers who don't and the percent of traffic going into fitting rooms. With these two data points, retailers can continuously improve and optimize fitting room performance.
Key results:
As a result, 4 Android applications were developed. Two for shoppers and two for associates, both for mobile and tablet devices.

The application significantly improved the overall customer experience and satisfaction, leading to increased sales and conversion.

Leading global companies all over the Globe use Crave Retail solution in the hundreds of points of sale.

The app developed in partnership with Geniusee helps businesses to increase basket size in fitting rooms beyond 20%!